I have been participating for the last 7 months in a leadership class focused on the Central Montana region called Leadership Central Montana. It has been a fabulous learning experience. If you're in the region, check out the website and look at joining the 2014/2015 class!
This week, I was part of an awesome (if I do say so myself!) presentation for 8th graders in Lewistown. My team had to complete a project of our choosing. After visiting with local businesses as part of our leadership classes, we chose to put together a presentation about trade school/OJT training opportunities available to local kids right here  in Fergus County (well there….as I'm not from there!).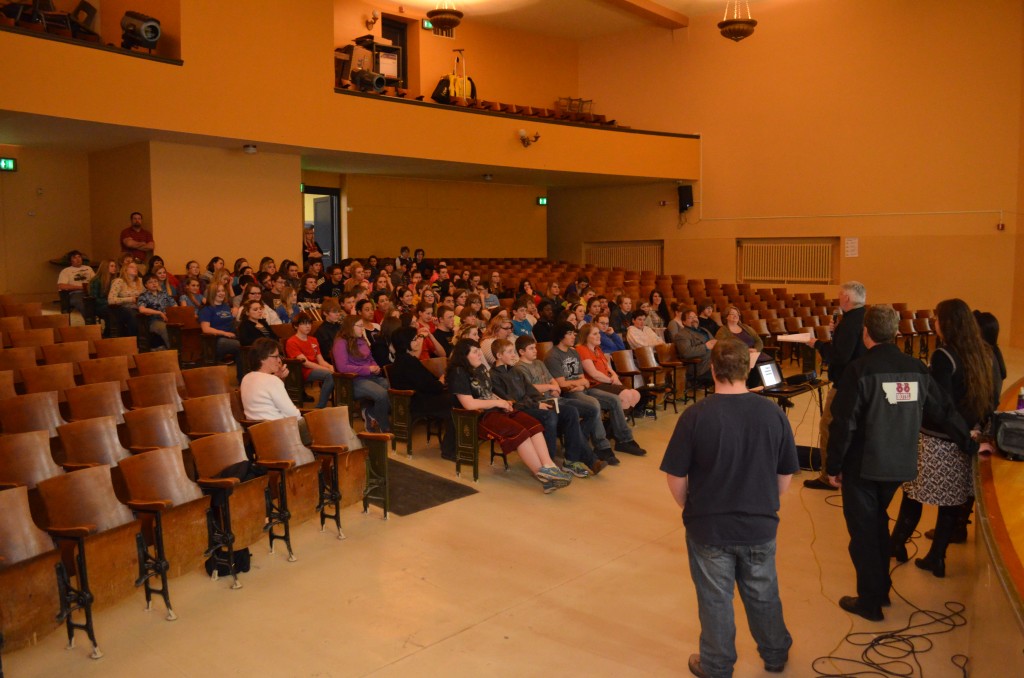 We lined up some amazing local speakers, and even I learned a few things!
Photos are courtesy of my own personal camera man, Lorenzo. Yeah, I'm that cool…I travel with own photog….in a kilt no less.  Which, he would like to say, got a good laugh from the public schooled kiddos, and he is sorry…no not really…to the one kid who got in trouble for making the silly remarks about a guy being in a skirt and had to be moved to a separate seating area. He actually really just laughed himself. And then on the way out, pointed out to me the school 'rules' that were violated in that particular interaction.
Jaeger also came along and enjoyed the presentation, as well as all the girls who "ogled my lovely flowing locks"<—he is SO modest that kid of mine. He also got to show off some card tricks though not as many as he wanted.
I learned that wow my hair is really LONG. I mean I know it is, but until I see it in a photo….I didn't realize just how LONG it is. (That is me far right of the photo with the black/white skirt.)
Oh, and Jaeger said I had a lovely speaking voice on the microphone in the auditorium, however he does NOT approve of my singing voice in the car belting out "Oh where is my hairbrush….oh where oh where oh where…….is my hairbrush!" He isn't the only one. Sometime, I'll have to tell you the story about how I ended up taking Band instead of Chorus.