It looked like a garden exploded in my fridge after some travel this week and a meat-ful weekend at our place.
I thought I would chop some veggies for salads for the week, and set Lorenzo to peeling a huge bag of carrots for snacks. Then, I thought, well if I pull it all out, then I can really see what we've got to get through this week……..3 hours later. I had cleaned all the drawers in both fridges (6 total) and relined them with fresh paper towels, and chopped/prepped/washed a whole lotta veg. My Napa Cabbage and Bok Choy was looking a little wimpy, so I started it soaking in a sink full of cold water.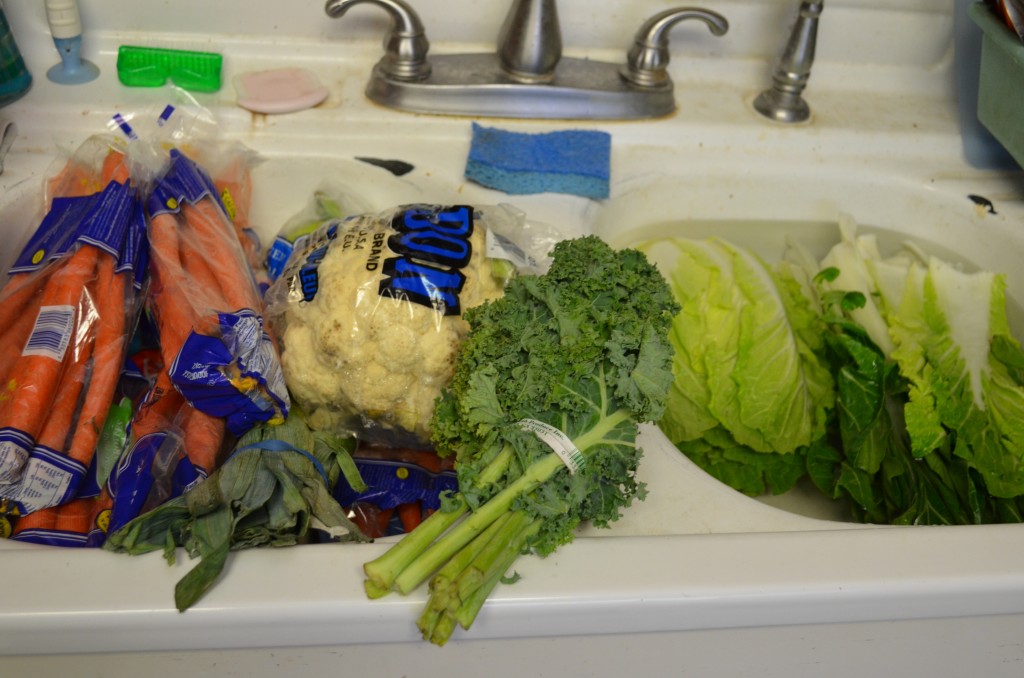 After much chopping and prepping and also much toddler chasing and entertaining, I managed to get most of this week's meals ready to go!
2 bags of curry vegetables (if we don't have curry twice….I'll just freeze one for next week if it looks like it won't hold over)
2 bags of carrot sticks for snacks–thank you to Lorenzo for peeling/cutting these
4 one cup bags of carrots slices to freeze for later use–just way too many carrots on hand in too many forms at the moment
2 bags of veggies for salads
3 containers of our favorite Ginger Dressing 
Cucumber Salad for use with Curry this week
Bag of prepped veggies for Bacon Brussels 
Strained multiple containers of homemade yogurt into 'Greek' yogurt to make summer porridge for breakfasts
Chopped and pressure cooked a very large beet and then put into a jar for refrigerator pickled beets–added some Thai peppers to make it spicy!
Pressure cooked a huge batch of chickpeas–put some away for 3 bean salad and hummus to be made tomorrow after they cool, and made some cookies I'd been meaning to try.
Perked kale for use in an egg dish (it was wilty so I perked in cold water)
Wrapped up my excess celery in tin foil so it will keep a long time in the bottom drawer
Bodhi is showing off our work! He did a lot of playing, eating, and general hanging about during the cutting.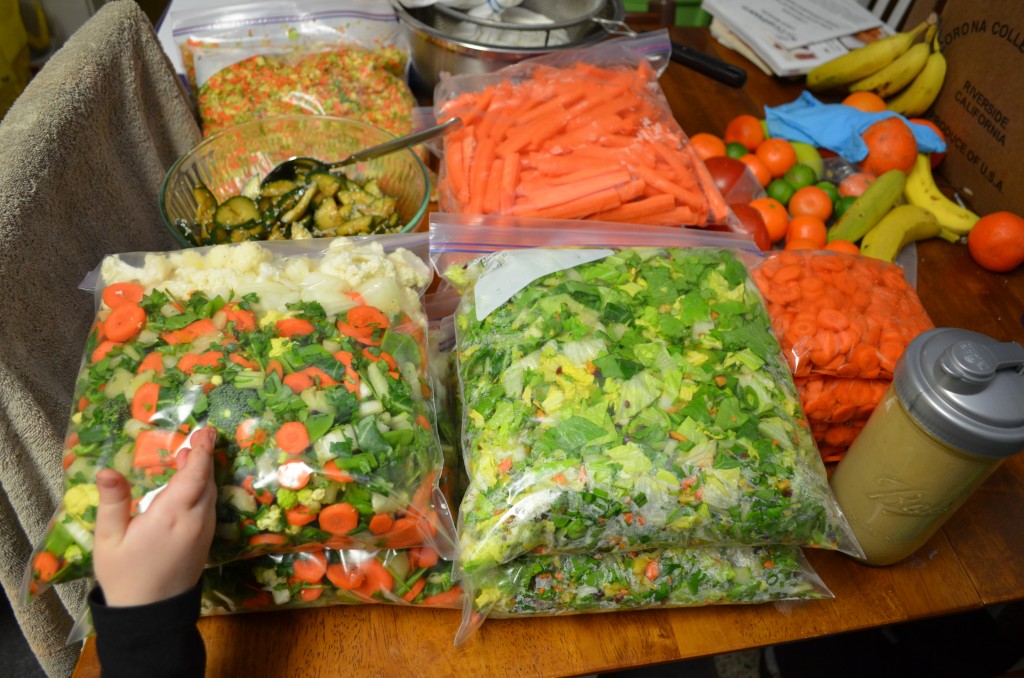 The cookies I'd been meaning to try were Chickpea Chocolate Chip. Sounds sort of icky, but they were actually AMAZING! Bodhi was licking the bowl while they cooked. And then we ate the whole batch!  It is small and makes only about 15 cookies…so with four of us…they were gone fast!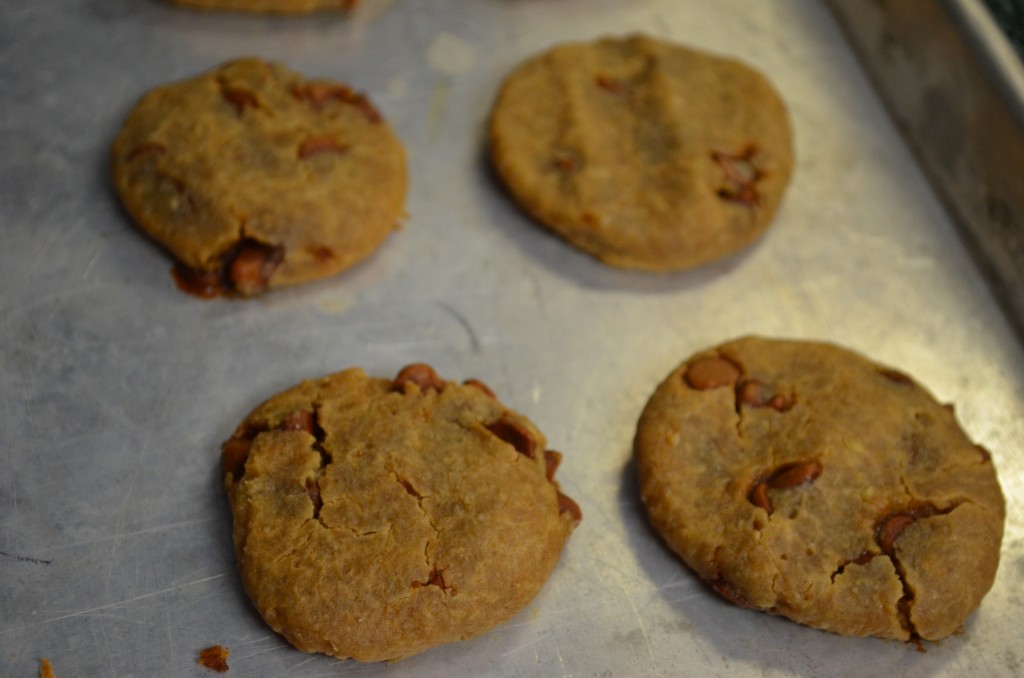 I will have to make them again for sure.  The only change I made was to use these delicious little cinnamon chips we have and they were just perfect for the recipe.  Hmm, in fact, sitting here writing this with none left….and just seeing the pictures again, makes me want to run out and whip them up right now!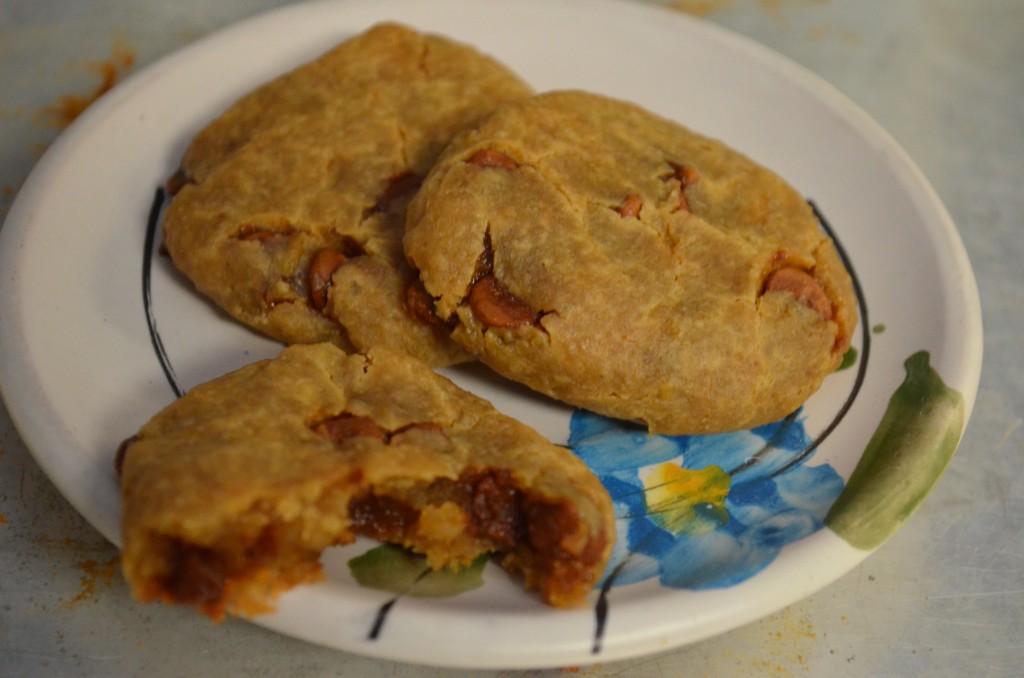 I still have strawberries I need to attend to. I got 2 flats, so 16 lbs I think it is from Bountiful Baskets last week, and most all the veggies you see were from baskets at some point in the last few weeks!
So this week for lunches or dinners we will have (I say either or, because if we are gone I will cook it for dinner or if we are here and have an activity in the evening, I'll cook at lunch and then we'll have leftovers at the other meal).
Bacon Brussels, Yellow Curry, Asian Salad–add chicken probably, Italian soup (kale, peppers, bag of frozen pork crumbles I made previously, carrots, etc. into the pressure cooker and on the table in 20 mins or less), Potato Leek soup (have the ingredients and will just take a few moments to cut/wash/pop in pressure cooker), and will make up the Hummus and 3 (or 4?) bean salad that the kids want. We also have some homemade salsa from last week that needs eaten up, so we'll likely have it with chips for a snack, or I could grab some veggies and make a veggie Spanish rice.
And, our chicks will be excited!  3″ at least of snow overnight, but they will wake up to a few buckets full of veggie scraps!