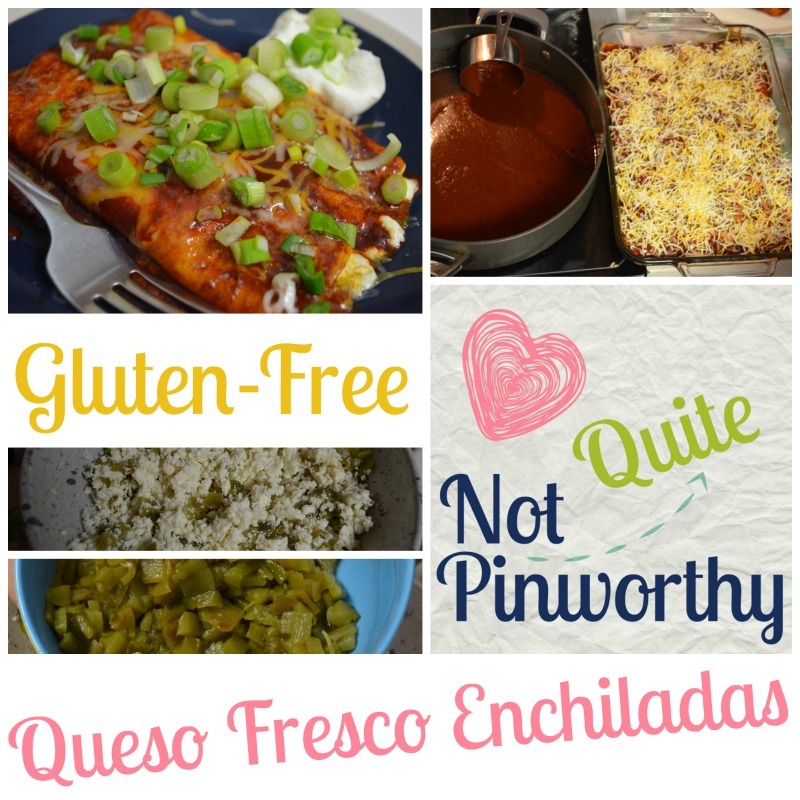 What's for Dinner (WFD) at our place tonight–GF Cheese Enchiladas
Scratch-made for the most part.  Super easy recipe! So very not-paleo, but so very yummy. Add a salad or veggie of choice for a side dish. Oven-roasted veggies–broccoli, cauliflower, onion, and carrot would be so good with these, but so would a side salad with a nice vinegar dressing.
Queso Fresco Enchiladas
2 cups GF Enchilada Sauce (we made our own with this recipe altering it–see below)
16 6″ GF Organic Corn Tortillas (I only had small 6″ Mission GF yellow corn available today)
1 block (20 oz) Queso Fresco (Costco carries this for a great price!)
1 cup Fire-Roasted Hatch or Poblano Peppers or (1 -2 small cans green chiles)
1/2 – 3/4 cup of shredded cheese for topping (I used Mexican blend from Costco)
Diced Green Onions and Sour Cream for topping if desired
Crumble one block (20 oz) of queso fresco into a bowl. Add your can (or two of green chiles) or about a cup of fresh roasted at home Hatch or Poblanos or similar mild/medium pepper. Mix well.  (Double this if you'd like to make two pans–you'll have enough sauce for two pans!)
Heat your shells until they are flexible. (I just used the microwave for 1 minute for a large stack, flipping part way through).
Spread a little of your enchilada sauce in the bottom of a 9×13 pan.
Add some filling to each shell, roll them up, and place seam down in your pan.  Repeat until the pan is full and your filling is gone. I had to make an odd sized little 'packet' one for the last piece as it was a funny spot to fill. But, it needs filled or the ones close-by will leak their filling out.
Top with your shredded cheese of choice.
Bake at 350 until everything is bubbly and hot. This took 25 minutes in my oven.
Now for some photos!
The enchilada sauce recipe made 4 cups. I put about 3/4 to 1 cup in the bottom of the pan.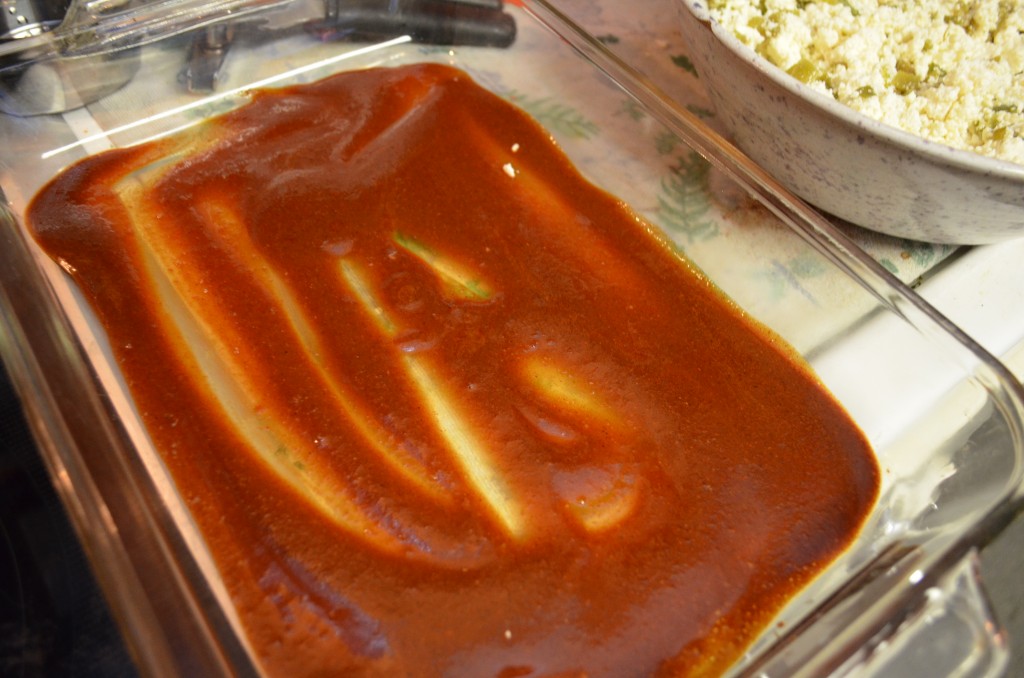 Crumbled queso fresco with diced fire-roasted Hatch chilies. We got these before Christmas with Bountiful Baskets, and they were languishing in the bottom of our crisper drawer. Hubs got a new grill with his end-of-the-year bonus, so he decided to try roasting them. Our last effort at this was far less than successful. We had once purchased a full case of Hatch chilies from Bountiful Baskets, but our old grill proved unworthy to the task, so he spent many long hours hand 'searing' them with a propane torch. Not fun. This time, they turned out great! He roasted on the new grill until they were blackened. Put them in a bowl, covered with plastic wrap to sweat for about 30 mins. Then peeled, seeded, and diced. We had about a dozen chiles which was enough for 2 1/2 cups of diced chilies in the end. Sadly…I have no photos of this process as I was busy playing trains with the toddler and goofing around entering a bunch of giveaways, oh yeah and watching some Downton Abbey!
Next, I took some of those chiles (about 1 cup) and 1 cube (20 oz) of the Queso Fresco from Costco. I just crumbled it up with my hands (brr that was cold!) and mixed with the diced chilies.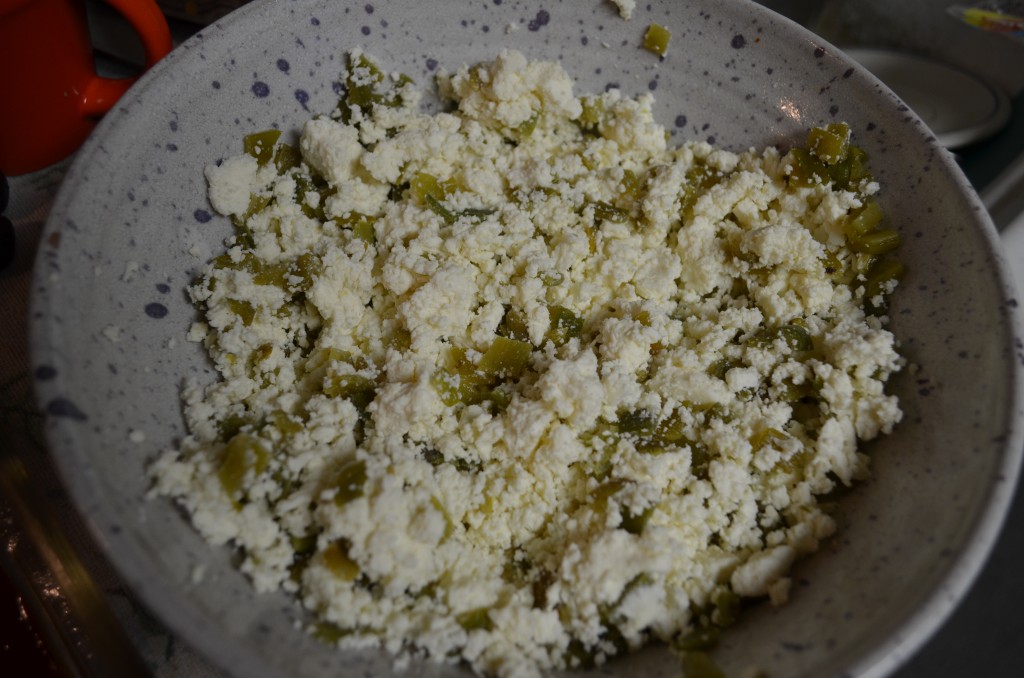 Filling and rolling and making a mess. Don't worry if some falls out. Just try to keep them together and get them seam side down in the pan, so they won't unroll.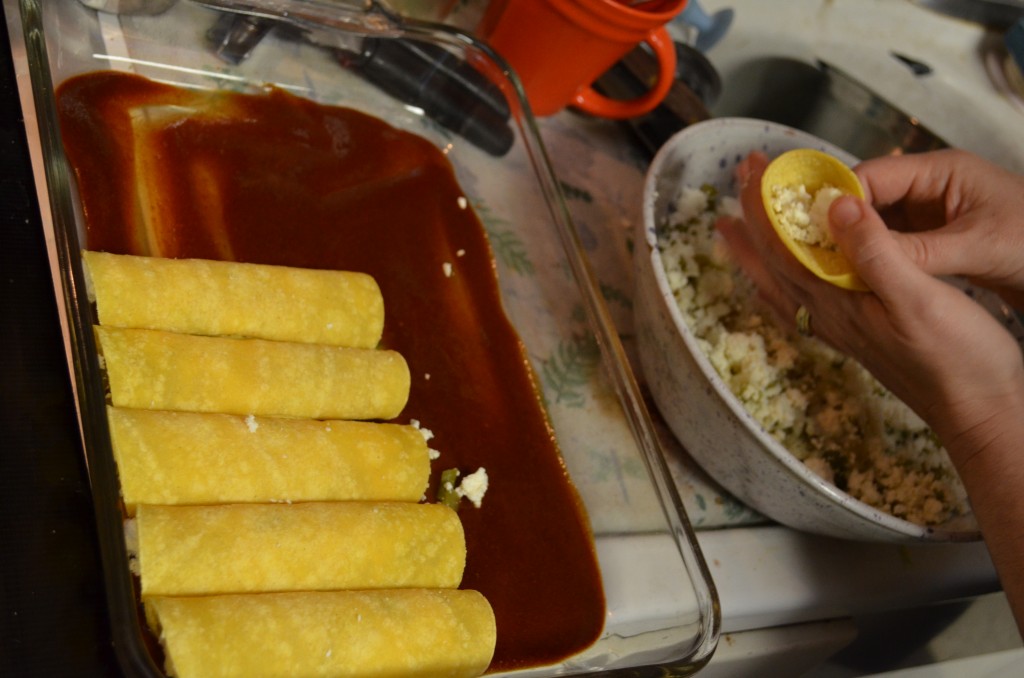 Poured 1-1.5 cups of the sauce over the top and then spread with the back of the measuring cup. Trying not to make any more dishes than I already had!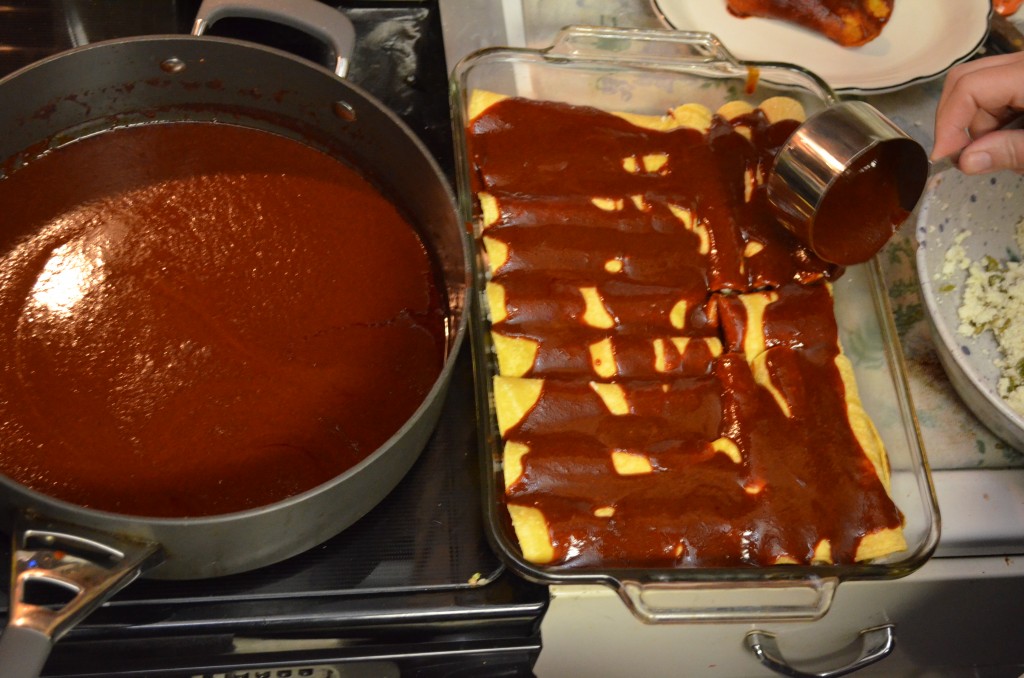 Sprinkle cheese over the top. Pop in the oven……fast forward about 25 mins!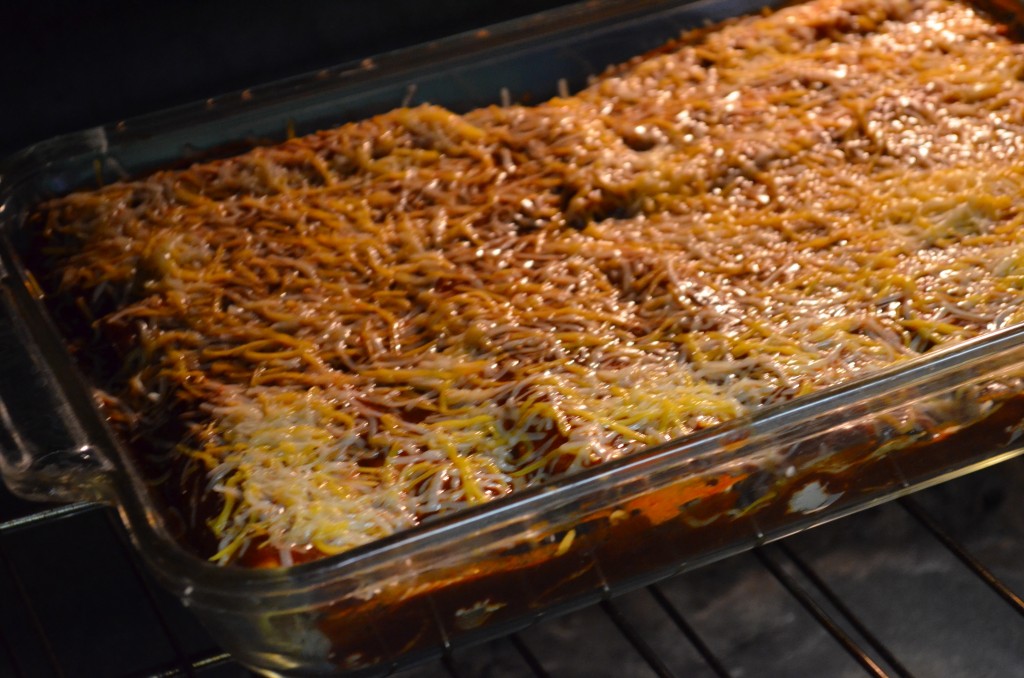 Serve and top with diced green onions and sour cream if you'd like. I had some lovely pictures of this process….but then somehow deleted them before I downloaded <oops>, and we'd eaten the whole pan between the 5 of us. So, I had to make another pan since I had all the fixins. We'll have lunch tomorrow too. YUM!! And, I got my finished shot too. Win-win right?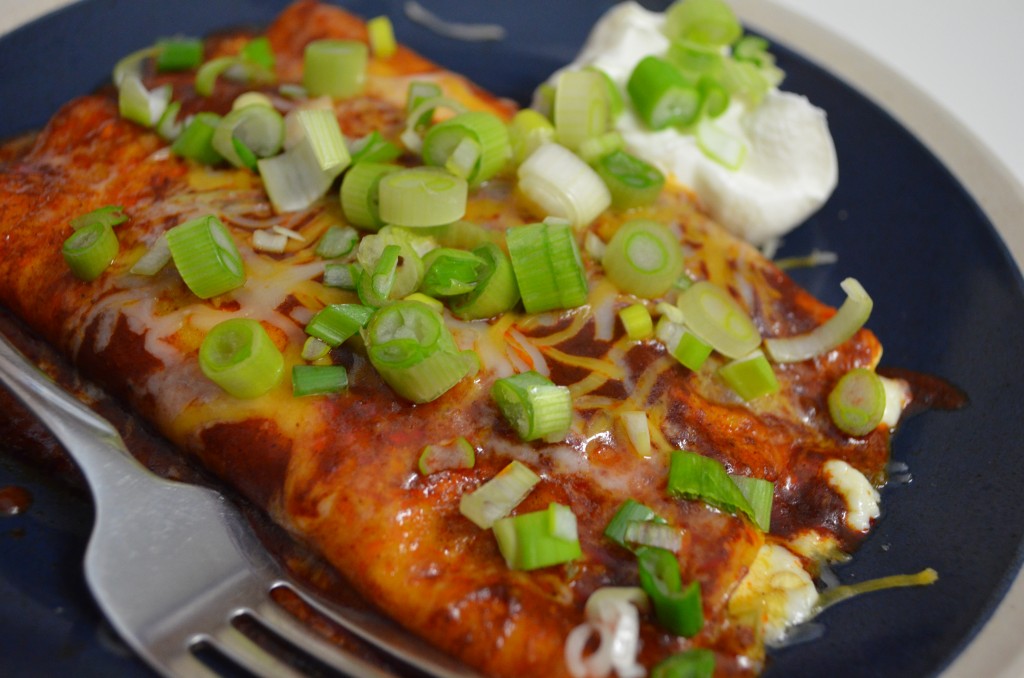 I used this recipe at Penniless Parenting as a starting point for our enchilada sauce and then altered as below.
Homemade Red Enchilada Sauce
1/2 cup coconut oil*
2 tablespoons tapioca starch *
1/2 cup chili powder (used McCormick from Costco)
1 6 oz can tomato paste*
3 1/2 cups water*
1/2 teaspoon cumin
1/2 teaspoon garlic
(omitted onion powder)*
Salt to taste
Mix everything together in a sauce pan or skillet with high sides–I used a wisk to ensure it was smooth. Heat until thickened.
Made about 4.5 cups. Enough for two 9×13 pans.
* denotes the changed items from the original recipe