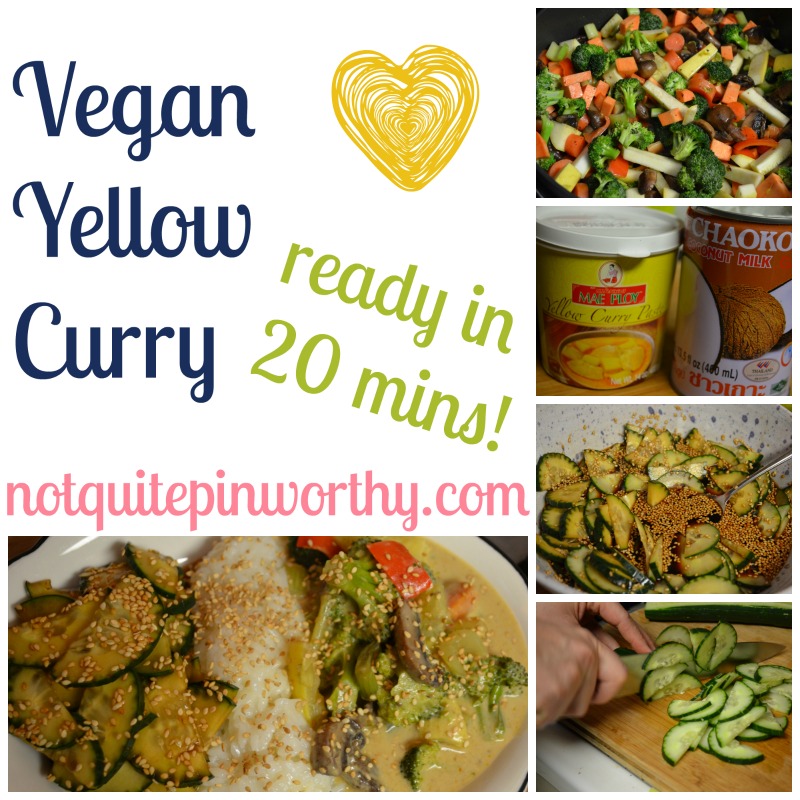 Yes…white rice. I know. I know. But bear with me folks. If I'm going to eat rice with my Oriental food, I'm going to eat white rice (remember we are paleoish in many of our meals/food choices). We don't eat out much, and so we have a few dishes we like to make at home and think we're eating out…this is one of them.
In order to make this quick and easy, you MUST buy Mae Ploy Yellow Curry paste–this one is a link to a big container, but you can find the smaller ones too. It is an add-on for Amazon Prime, so I confess, you'll find it sneaking into our Amazon orders with regular frequency! Also some of the other Mae Ploy curry pastes as well–though all aren't Vegan, so label read if that is important to you. Ingredients: Lemongrass, Garlic, Shallot, Salt, Galangal, Dried Red Chilies, Coriander Seed, Kaffir Lime Peel, Cumin, Cinnamon, Mace, Tumeric, Cardamom.
One more plug, this curry paste is just amazing. If you eat out and love that curry from xyz restaurant, they may very well use Mae Ploy. It's an excellent curry widely used, and I love that the ingredients are all just basic stuff and nothing funky. No preservatives.
I will warn you ahead that, yet again, this recipe is pretty loosey-goosey. You're going to have to do some guesstimating when you're cooking. It is a guide.
Vegan Yellow Curry
Lots of veggies. Chopped. (OR Costco frozen Stir Fry Veggie Mix for uber fast/no prep time!)
few tablespoons coconut oil
few tablespoons Mae Ploy Yellow Curry Paste
1-2 cans Coconut Milk
toasted sesame seeds
white rice
Start rice however you like to cook it.
Chop veggies. Cook in coconut oil in a deep saute pan until crisp tender (about 5 mins). Add curry paste and coconut milk. Stir until well combined. Heat through and check veggies for desired tenderness. Plate with rice and cucumber salad (if desired). Eat.  (See below for more thorough directions.)
Excellent accompaniment to the Curry. It cuts the little bit of heat and the acid of the vinegar/cold of the cucumber–NOM! You can stir it all up together, or take bites of the curry/rice with a little cucumber–almost like you would eat sushi with some pickled ginger.
Cucumber Salad
cucumbers
soy sauce
apple cider vinegar (white works too)
pinch sugar if needed
toasted sesame seeds
Wash cucumbers. Score the skin with a fork going through to the white of the cucumber. Cut off ends. Cut in half. You can scoop the seeds out if if you wish. I don't mind the seeds. Slice very thin.  In a bowl add soy sauce and apple cider (or white) vinegar–I use twice the vinegar to the soy sauce. Pinch of sugar if needed to offset the vinegar. Add some toasted sesame seeds. Add sliced cucumbers. Stir. Only needs to sit a few minutes, but can be stored for leftovers too. Use a slotted spoon to plate leaving most of the juice behind.
Now for some more photos!
Okay….so that was the basics….here are some more specifics–with a few pics!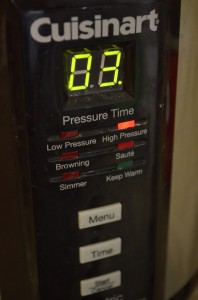 Start your rice–whatever way you like to cook it. We have a pressure cooker, and it makes rice very fast, so I usually start my curry first, but you know how much time you need for your rice. I love our pressure cooker. It's the Cusinart countertop electric model. You can cook white rice with just 3 minutes at pressure, and it ends up firm but sticky. I use Calrose rice (yes from Costco).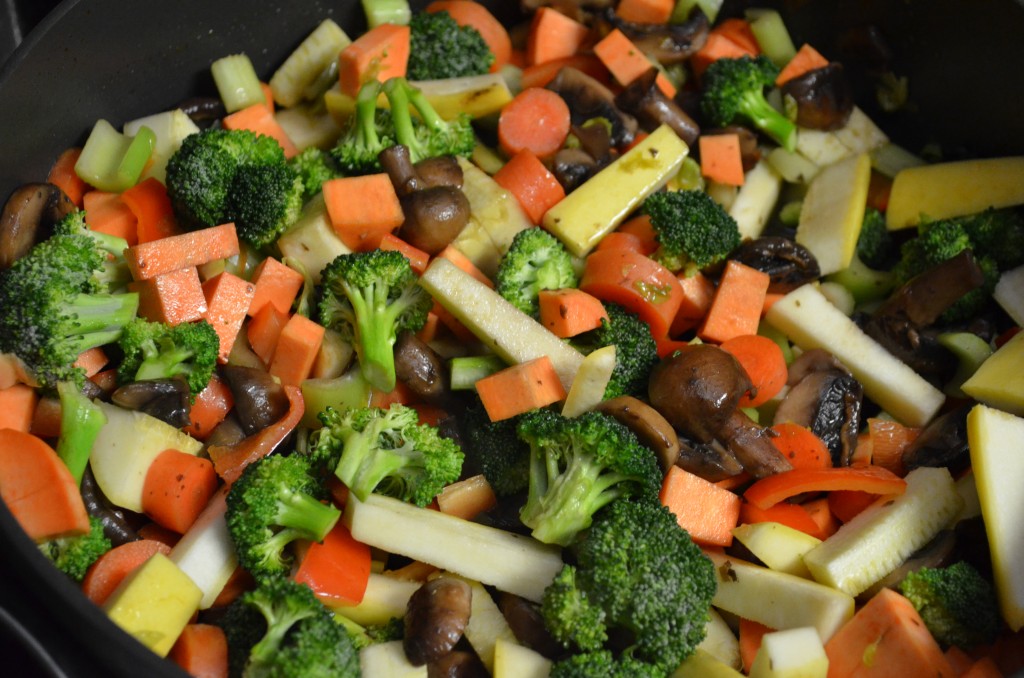 Put your Coconut oil into a deep saute pan. Start chopping.   If you're using mushrooms,  do those first and let them cook down some on higher heat while you chop everything else–that is if you like your mushrooms cooked down a bit–we do. We think they taste more meaty. Which, when I asked Lorenzo to help with this tonight, he KNEW we were getting something Vegetarian/Vegan when he saw a whole lot of mushrooms to be cooked. He knows me too well I think! 
You'll want anything 'dense' like carrot or potato to be in 1/2″ or so cubes so it will cook evenly with the rest of the items. We did mushrooms (1.5 lbs), broccoli (1 lb), 1 medium yellow squash cut into 'sticks', 2 medium carrots, 1 red pepper, and one medium sweet potato in little cubes. I just grabbed what looked good, and started chopping until the pan was nice and full. 
Or, you can use the Costco Stir Fry Veggies in a bag. This is easy, just pour in how much you'd like and go! Really fast with no chopping prep time.
Stir and put the lid on. Stir a few times to be sure nothing is getting too done.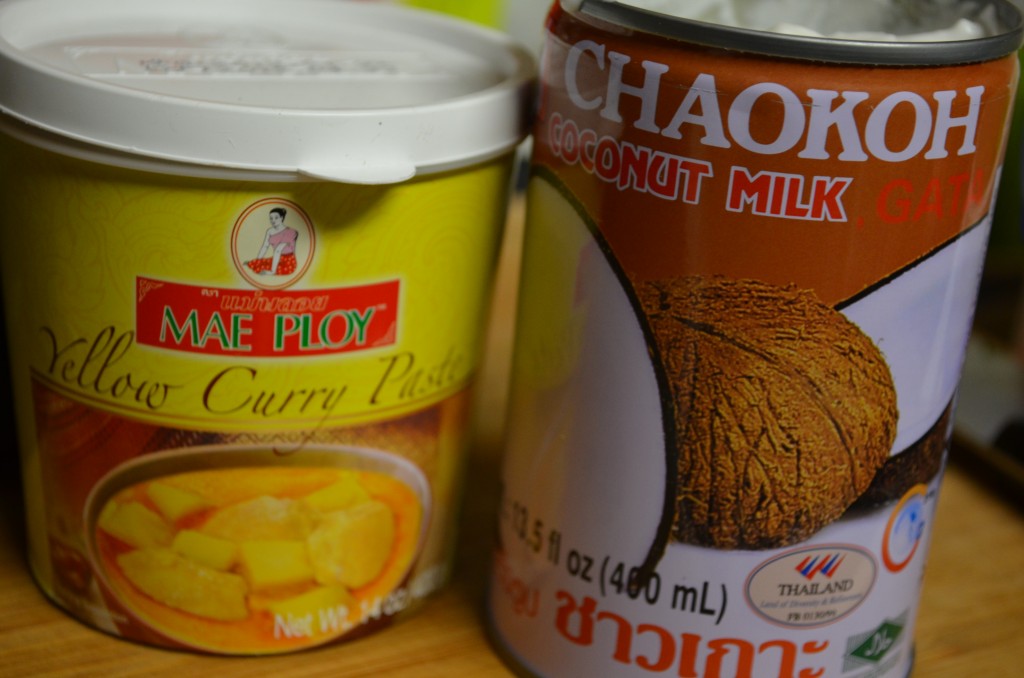 I stir a few times, but within 5 or so minutes everything should be 'crisp tender' which is the way we like our curry. If you like it more done, let it go a little longer.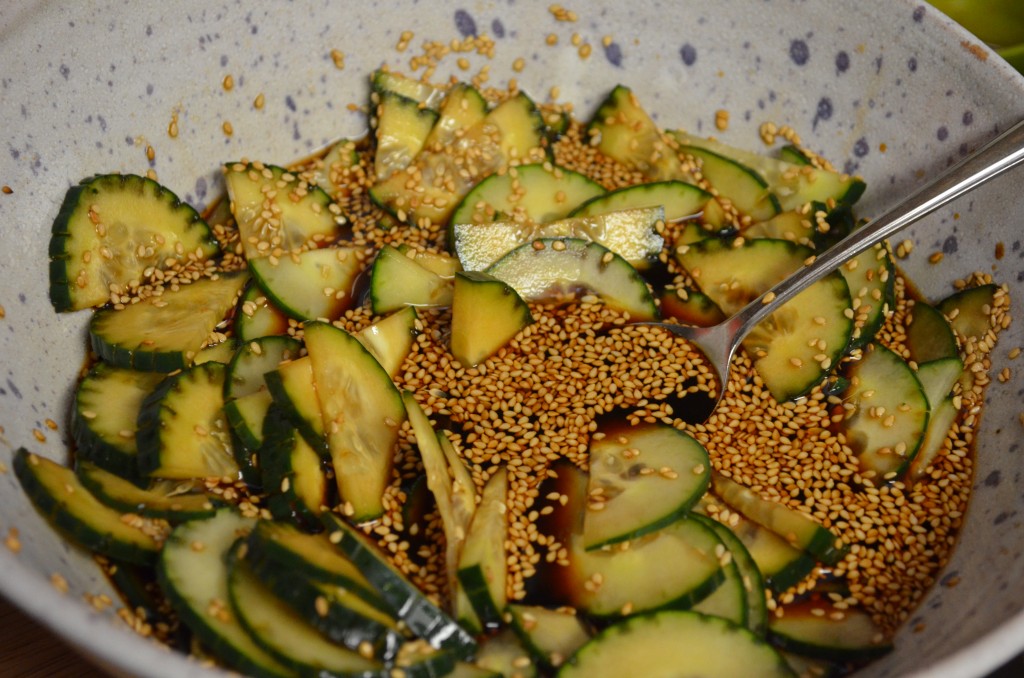 While your veggies are cooking, make your cucumber salad. Really simple. Score cukes through to the white with a fork, cut in half, slice thin, add vinegar, soy sauce, and sesame seeds. Stir up! You might need a bit of sugar if your vinegar is really acidy. I use Organic Unfiltered Apple Cider Vinegar from Bountiful Baskets and it has a nice acid, but not too biting.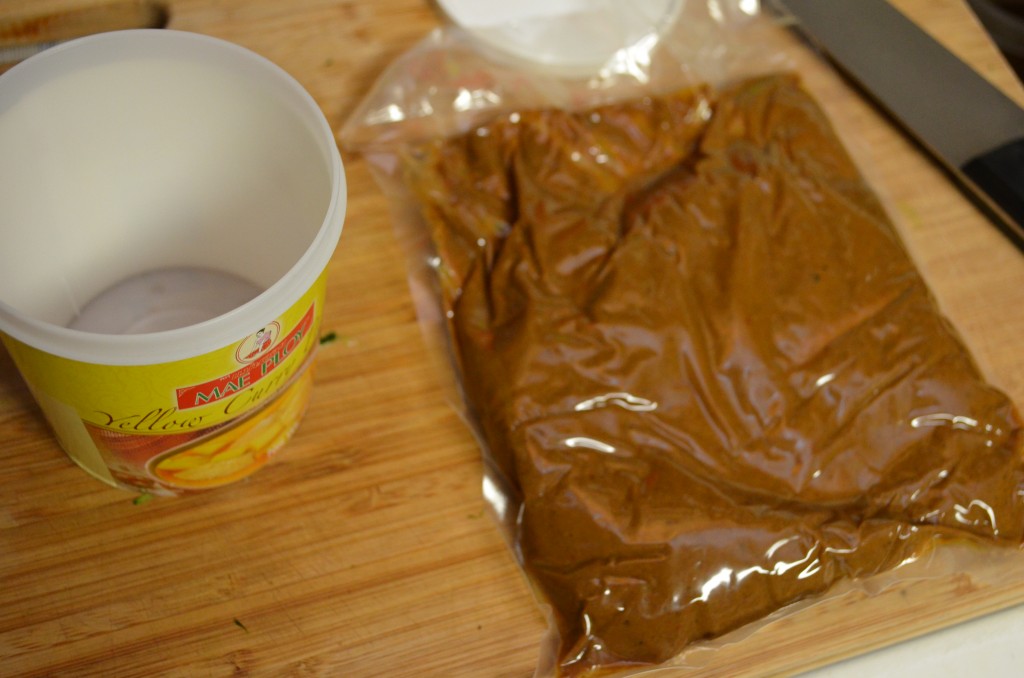 The Mae Ploy curry paste comes in a bag. I clip off a corner and then squish some out. Then roll the bag back up, and store inside the container in the fridge.
Make a little well in the center of the veggies and squish a few tablespoons of curry paste into it.  Let it cook for a moment to soften. Then add a little coconut milk and stir it, making sure it's melting. When it looks like the curry is well melted and combing with the milk, then add the rest of the can (maybe a second can if you have a lot of veggies–I used two cans).
Alternately, if you're new to curry paste, you can melt the curry paste with a little water or coconut milk in a bowl to be sure it gets mixed/well combined and then add to the pot.
At this point, we REALLY like ginger at our house. If I have fresh, I might grate a little into the curry. If not, I might sprinkle a teaspoon or so of ground ginger and stir up. You don't have to as you might not be as ginger crazy as we are!
Now you just need to heat through. Check your veggies to be sure they are done to your liking.
Plate with the curry, rice, and cucumber salad. Be sure to use a slotted spoon with your cukes as you don't want the sauce to get on the plate or it will make it all too acid. Sprinkle with a few (or a lot in Lorenzo's case…okay…me too…) toasted sesame seeds.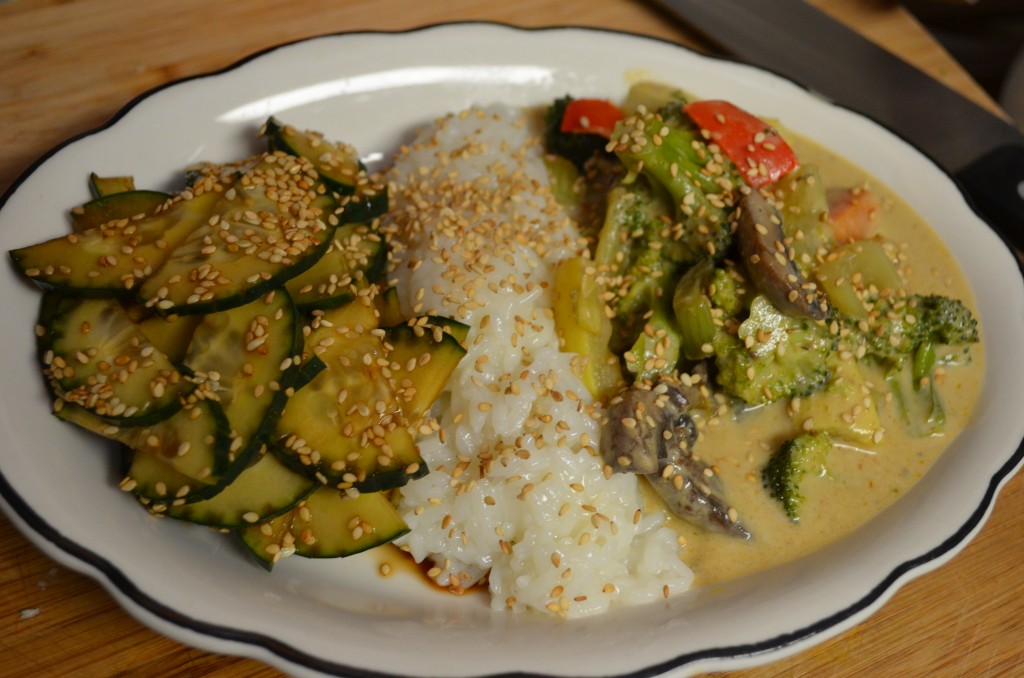 Delicious! It's a little too hot for the 2.5 yo, but I take a few veggies I know he likes from the curry and stir into the rice and top with sesame seeds, and he eats that.