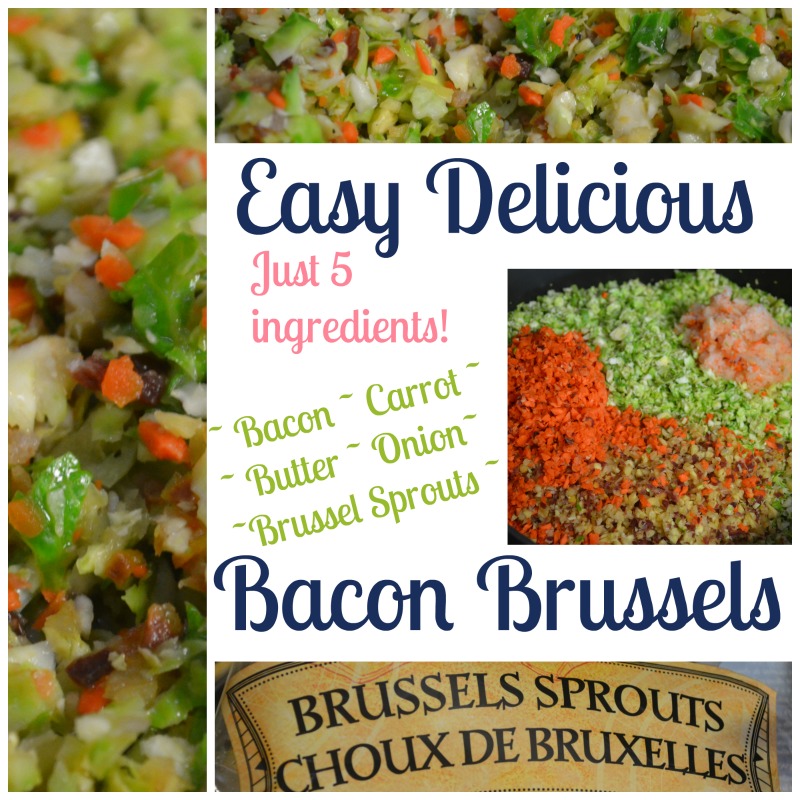 If you think Brussel Sprouts are icky, you just haven't had them fresh and well-prepared. If you already like them, you'll love this easy recipe. We eat this as a main meal item, and a nice big bowl of it will fuel you up on veggies!
There are just five main ingredients in this–butter, bacon, brussels, carrots, and onion. Nothing too expensive, so this is a nice frugal meal that is great for you. You can add broth if you'd like and if you don't have the Wildtree Adobo seasoning, I will give you options after the recipe, or you can use a commercial Adobo seasoning.  You can also add a clove or two of diced garlic to this recipe if you wish for another kick of flavor.
Bacon Brussels
1 stick butter (1/2 cup)
2 lbs fresh Brussel Sprouts
4-5 medium carrots
1 medium onion
1 cup bacon crumbles
1 Tablespoon Wildtree Adobo seasoning
1-2 cups water (or bone broth to amp up the nutrition!)
Put stick of butter in a deep frying pan and start to melt. Wash your Brussel sprouts and then use a chopper or food processor to mince them very fine. Do the same with the carrots and onion.  I used rainbow carrots for these photos added another splash of color.
Add them to the pan as you process in batches if you have a small chopper, and don't want to get out the big food processor. Add bacon–you could add more if you want–NOT bacon bits–ick! (I buy the precooked bits from Costco…judge me….but I love the convenience!)  Sprinkle Adobo seasoning in, add 1 cup of water and stir to combine.
Put the lid on and continue to cook on medium to medium high until everything is crisp tender. Stir a few times during cooking. It will take about 10 mins. If it seems dry and like it isn't steam cooking, add all or some of the second cup of water or broth. Do NOT overcook, or it will end up drab, mushy, and good…but not AS tasty, and your Brussel sprout haters will probably still hate it.
Serve and adjust seasoning adding more Wildtree at the table if you wish, or just plain salt and pepper.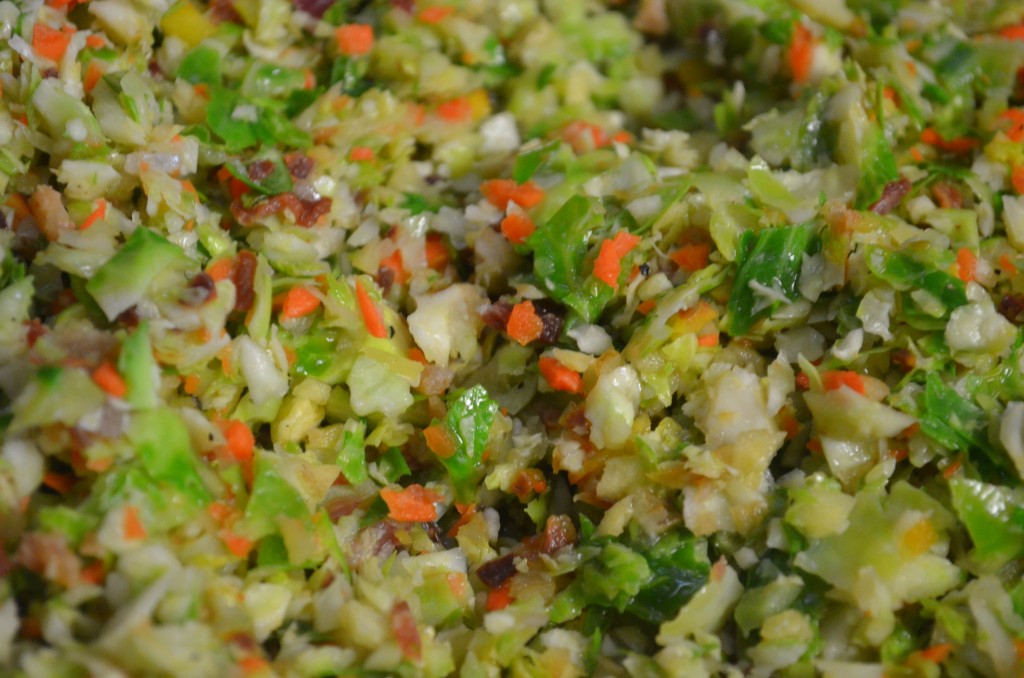 I'm not totally sure that Wildtree link will work! If it doesn't, you can shop via my friend Marisa's page. The Wildtree Adobo is nice, because it doesn't have any junk in it.
If you don't have Adobo, you can use your own blend of spices from your cabinet. Just be sure to include some garlic, salt, pepper, and a little cayenne for a kick.